Gotta flow? Grab a DRAIN DEFENDER Outdoor Drain Filter.
---
Our two-piece outdoor drain pipe cover placed over your existing stairwell or floor drain will keep your home dry no matter what Mother Nature throws your way.
The rigid, reinforced composite outer cover features a slotted barrier wall that keeps grass, leaves, twigs, blossoms, and other common yard debris from reaching the drain and causing it to clog.  A second stage flexible perforated screen catches smaller debris that may have passed through the slots in the barrier wall of the outdoor drain protector.  The drain cover and perforated screen are easily separated to spray clean with a garden hose.
This Outdoor Drain Filter Installs without tools in seconds.
Fits most drains up to 8.5" diameter, or 6" square.
DRAIN DEFENDER is 12 inches in diameter and less than 2 inches high, but effective on much smaller drains.
MONEY BACK GUARANTEE!
If Drain Defender doesn't keep the water out of your basement, we'll refund the full purchase price.
CHECK OUT HOW OUR PATENTED OUTDOOR DRAIN PROTECTOR KEEPS YOUR HOME DRY
---
We challenged Drain DefenderR in controlled tests simulating a 100-year 15-minute downpour. With Drain Defender's outdoor drain filter, the water doesn't reach flooding depth! Keeps out grass, leaves, blossoms, twigs, pine needles, and more.
Unprotected
with just a small amount of mixed debris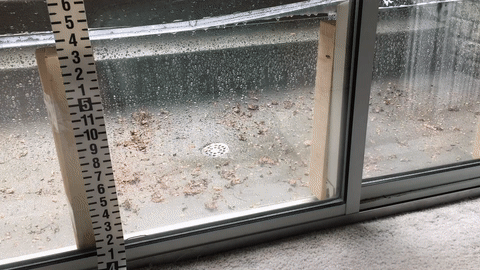 Peak water depth 6 inches.
With DRAIN DEFENDER
and 10 times as much debris
Peak water depth less than 1 inch.
Don't take our word for it.  It's science.  Here's how Drain Defender performed in controlled 15-minute clogged outdoor drain pipe downpour tests.
GREAT GRATE
SPECIFICATIONS
Size
Diameter: 11 ¼"
Height: 1 ¾"
Weight: 1.0 lb.
Color
Reinforced cover: Grey
Perforated screen: Dark grey
Material
Reinforced cover:
Polyvinyl chloride (PVC) with UV inhibitors
Perforated screen:
Thermoplastic polyurethane with UV inhibitors